From Tali we learned to view the world in a different way… to focus on what is important in life … to find joy amidst adversity.  Through her words and actions, our little girl lit up the world, exuding kindness, gentleness and deep affection for those fortunate enough to be around her.
May Tali's strength and dignity continue to touch and inspire many more people for years to come.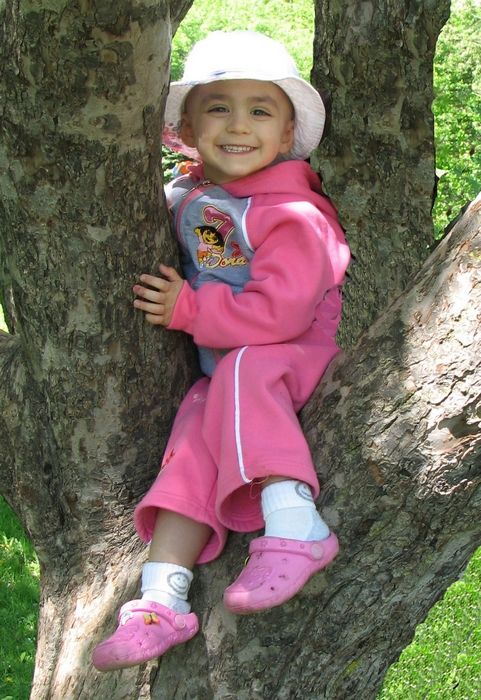 Tal (affectionately known to many as "Tali") came into our lives on June 10, 2003. She arrived twenty-seven minutes behind her twin brother Noam and two and a half years behind her older brother Amir. After a relatively normal, if somewhat precocious three years, during the summer of 2006 she began having spells in which she would throw up repeatedly for several days and then seemingly recover as any child would from a simple virus.
However, in late October 2006, not only was she throwing up, she also was extremely lethargic. She was taken to North York General Hospital, where she was initially diagnosed as suffering from dehydration and was given intravenous fluids. Tal's condition continued to worsen at night and eventually she was rushed by ambulance to The Hospital for Sick Children.
At Sick Kids, a CT scan quickly determined that she had a large mass in her brain. This devastating news became our new reality. Our Tali had a brain tumour.
A subsequent MRI scan revealed to the surgical team at Sick Kids that the mass was quite large and needed to be removed. The tumour was preventing the normal draining of cerebral fluid in Tal's brain. Five days after Tal arrived at Sick Kids she underwent surgery to remove the tumour. The surgery, performed by Dr. Rutka and his neurosurgery team, lasted about four hours and went extremely well.
To our amazement, Tal was already singing her ABC's in the recovery room and we were relieved to know that she showed no signs of any brain damage.  A biopsy revealed that Tali had a tumour known as ATRT (atypical teratoid rhabdoid tumour), an extremely rare and aggressive form of cancer.
1. Treatment
2. Coming Home
3. Relapse
4. Tali's Legacy
5. Tali - Our Little Girl
1. Treatment
Prior to beginning chemotherapy, Tali underwent multiple surgeries aimed at stabilizing her very serious condition in order to prepare her for treatment. Doctors warned us that the treatment would cause Tali to feel extremely ill, and added that despite aggressive treatment, there remained a significant chance of a relapse within the first year.
Tali's treatment consisted of 6 cycles of chemotherapy and was implemented in two phases.  The first phase involved three cycles of strong chemotherapy carried out over a three-month period, during which time (with some exceptions) she remained in the hospital.  We were told to keep the number of visitors to a minimum, since the chemotherapy severely compromises the immune system.  An MRI at the end of the first treatment phase provided us with much needed hope and encouragement, as there appeared to be less evidence of the original tumour. 
The second phase involved another three cycles of chemotherapy.  Far more intense than the first round of treatments, the second treatment program necessitated complete isolation for Tal.  Her immune system would become dangerously compromised and extremely susceptible to infection.  We – her parents – were, for the most part, the only familiar faces allowed in her room. Hospital personnel were allowed in briefly but they had to follow a stringent protocol prior to entering the room, in order to prevent the spread of infection.
After each of these three chemotherapy cycles, Tali underwent a stem cell transplant, using her own stem cells that had been harvested earlier on.  The purpose of the stem cell transplant was to help rebuild Tali's immune system.
Her recovery after each cycle was amazing.  Tali was allowed to go home for a few days.  In mid December Tali finished her cycle and her blood count was at level that allowed her to go home on the day off her Dad's birthday.  Tali was allowed to go home and celebrate with her family.  On February she amazed us by recovering after her heavy dose cycle just on the day of her mom's birthday.  And again Tali went home to celebrate with her family.  Tali stayed home again for a week celebrating her brother Amir 3 days later.  Her last cycle was getting close to the date of Passover and we were not sure if Tali will make it home for Passover dinner.  Tali did not disappoint us again as her count Shot up on the eve of Passover.  It was the end of her last cycle and what a prize was waiting for all for us.  Tali was discharged from the hospital after completing her 6 cycle and got to go home and spend the Passover with her family. 
Tali's recovery after each cycle was so good that, on a number of occasions, she was allowed to go home for a few days. In mid December, Tali recovered enough after her chemotherapy cycle to allow her to go home on the day of her Dad's birthday.  
In February she amazed us by recovering after one of her high dose cycles just on the day of her mom's birthday. That time, she managed to stay home for a week and was able to celebrate her brother Amir's birthday as well. Her last cycle was close enough to Passover that we had real doubts as to whether she'd be well enough to come home for the holiday.
Once again, her spirit and determination triumphed and her counts shot up just in time to allow her to join the family for the Passover seder.
While Tali was in isolation, we were fortunate enough to be able to set up a computer with a webcam, so that Tali could communicate with some of the important people in her life – particularly her brothers!
Tali found a way to make the best of her difficult circumstances.  She demonstrated strength and determination, and remained quite a happy little girl.
2. Coming Home
3. Relapse
4. Tali's Legacy
5. Tali - Our Little Girl